Veterans Accessing Legal Aid Across Rural Kentucky VALAR-KY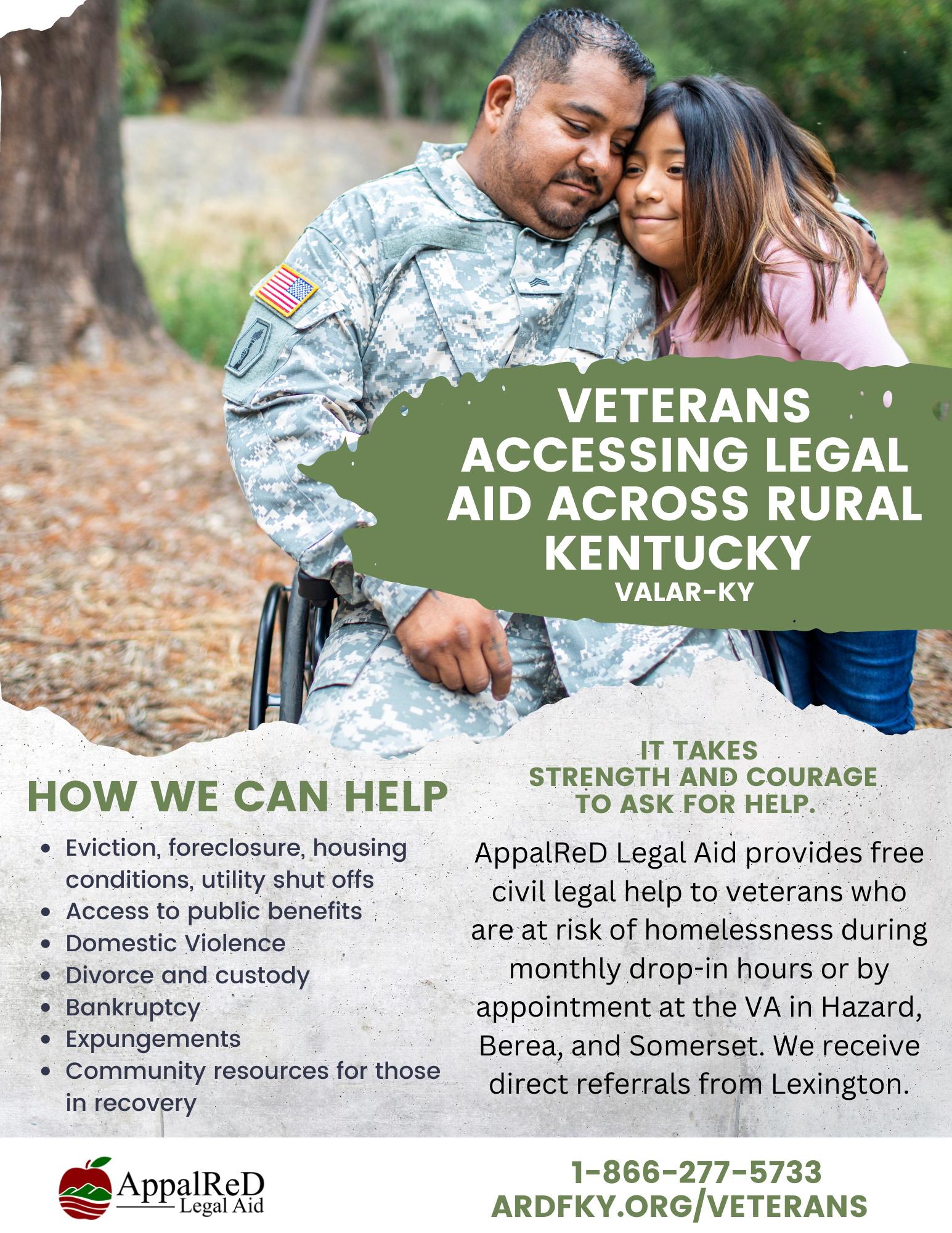 VALAR KY helps veterans who are homeless or at risk of homelessness and provides monthly drop in clinics at the VA clinics in Somerset, Hazard, and Berea. AppalReD receives direct referrals from the VA system in Lexington since members of outlying counties often use medical services in Lexington. Attorneys are available to meet with veterans who live in AppalReD's service region in Lexington on the VA campus on request.
Upcoming Clinics
11/20 1:00-3:00 P.M. Somerset, KY at the VA
12/20 1:00-3:00 P.M. Somerset, KY at the VA
Pre-registration for the Somerset clinic is appreciated by calling the Richard at the VA at 606-802-4188. 
What Do We Mean By At Risk of Homelessness or Homeless
The best way to find out if you qualify for services through VALAR-KY is to call the Central Intake line. They will complete a short screening. Homelessness and risk of homelessness includes many different situations, such as:
living in the home of another because of economic hardship;
moving twice in 60 days;
Having electricity or water cut off by landlord to "evict" 
paying to live in a motel;
Living in an overcrowded unit;
exiting an institution of system of care (mental health facility, corrections, foster care, etc.);
fleeing domestic violence; and
other situations that put the individual at increased risk of homelessness.
What We Can Help With
Eviction, housing conditions, utility shut offs
Foreclosure
Access to public benefits
Domestic Violence
Divorce and custody
Bankruptcy
Expungements
Community resources for those in recovery
How To Get Help
Call AppalReD Legal Aid's Central Intake at 1-866-277-5733.
Apply for help online.
Drop in to monthly clinics at the VA in Berea, Hazard, and Somerset. (Dates and times TBD and will be updated here)
Ask a staff member at the VA to make a direct referral to AppalReD Legal Aid.
If you live outside AppalReD Legal Aid's service area, call 1-844-268-0VET[0838] or email veterans@laslou.org to see if you qualify for the Volunteer Lawyers for Veterans program. They can refer you to your nearest legal aid office.
What if I am not homeless or at risk of homelessness? What if I have a dishonorable discharge?
AppalReD Legal Aid serves low-income veterans and members of the military, no matter their discharge status, who reside in 37 counties across eastern and south-central Kentucky. We take pride in serving those who served.
Please call 1-866-277-5733 to complete an income eligibility screening and for us to learn more about your civil legal issue.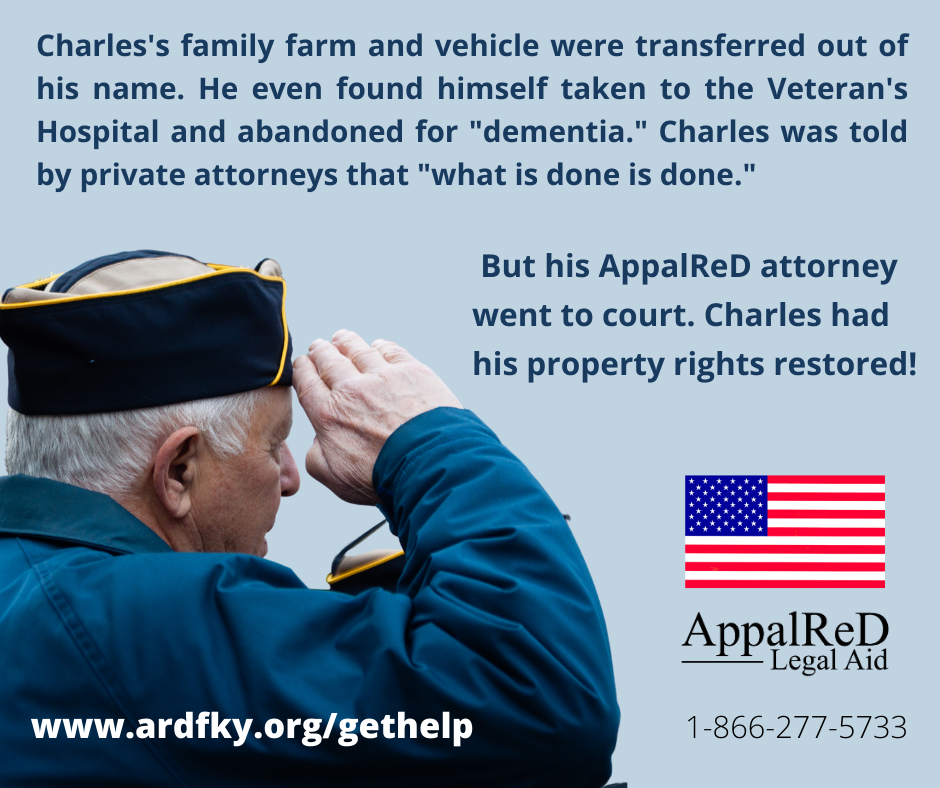 Last updated on .