'It's a godsend': AARP donates $45k to organizations targeting flood relief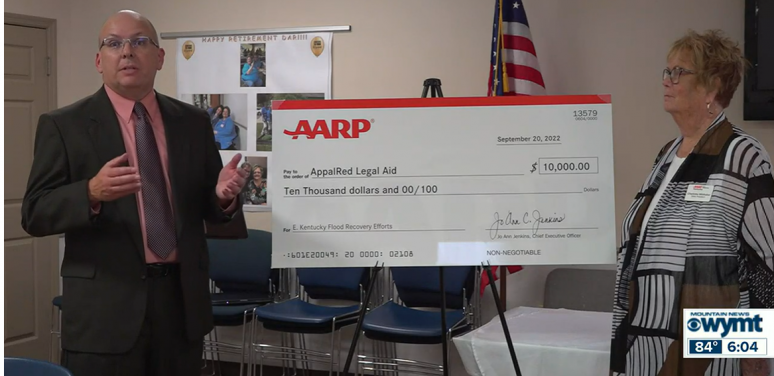 Sep. 20, 2022 at 8:10 PM EDT
PRESTONSBURG, Ky. (WYMT) - As organizations across the region work to be part of the relief efforts following the late-July floods, AARP is stepping in to target its demographic by donating $45,000 to the mission.
AARP Kentucky representatives visited Prestonsburg Tuesday, giving four checks to support Eastern Kentucky efforts. Big Sandy Area Development District, Kentucky River Area Development District, and AppalReD Legal Aid each received $10,000, while God's Pantry Food Bank received $15,000.
AppalReD representatives said the money will be useful in the efforts to represent those impacted, as they see an increase in FEMA denials and other concerns.
"It's a godsend to get this kind of additional funding to support the disaster work- to support that staff that we've had to divert into disaster work."
He said the focus has shifted to keeping the flood victims as a number one priority, which makes the other ongoing grant efforts suffer. So, more funds are always a welcome announcement.
Read more at WYMT.
Last updated on .