Good Giving Challenge is Nov 30-December 6th!
This year AppalReD's Giving Tuesday and Good Giving Challenge fundraising will go directly to benefit and serve the legal needs of children in our communities!
This is our first year participating in Bluegrass Community Foundation's Good Giving challenge and because of this partnership your dollars will go farther. Every day of the challenge there are different ways for your donation to be matched. Donations must be made on www.BGgives.org/appalred for the opportunity to be matched.
When you give on AppalReD's page from Nov 1-Dec 6th (or from 11/20-12/6 on www.BGgives.org/appalred) you will also be entered into a raffle to win an American Girl Doll. Fittingly, "Melody" grows up during the civil rights movement and lifts her voice for equality.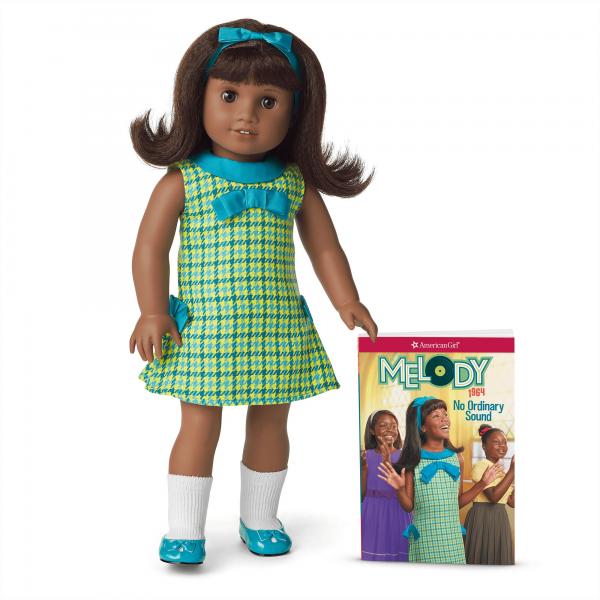 A donation of any size will enter you into the raffle and help so much!
$10: Provides three picture books along with family friendly legal advice
$25: Provides Legal Advice at a Pediatrician's Office
$50: Keeps a kid warm by preventing a utility shut off
$100: Ensures a child receives accommodations or is free from bullying at school
$150: Provides a child safety with an emergency protective order
$500: Ensures child is represented tirelessly in court in cases of child abuse
Starting at 9 a.m. on 11/30, you can donate at the link below. 
Give During the Good Giving Challenge
Donate
AppalReD Legal Aid is a 501(c)3 nonprofit organization. We receive federal, state, and local funding. However, over 240,000 people live below the poverty level in our region, and many legal needs go unmet. AppalReD accepts monetary donations to help us provide legal services to those in need.  Your contribution is tax deductible to the extent allowed by the law.
Please consider donating to AppalReD. Your donations are tax deductible to the extent allowable by law. If you would like to make a donation, you can send a check to our Administration office at:
---
Appalachian Research and Defense Fund of Kentucky, Inc.
120 N. Front Avenue
Prestonsburg, KY 41653
Join Legacy Society
Have you included AppalReD Legal Aid in your will? Please let us know of your intention by joining the Legacy Society via the form above. The Legacy Society recognizes friends who demonstrate their deep commitment to fighting poverty and creating equal access to justice by making a planned gift or including AppalReD in their estate plans. Legacy Society members will receive a pin and certificate. Their name will also be added to our legacy wall in our Prestonsburg office.
Read below to learn more about one of our founding Legacy Society members and how the legacy society launched.
AppalReD Legal Aid Society Launched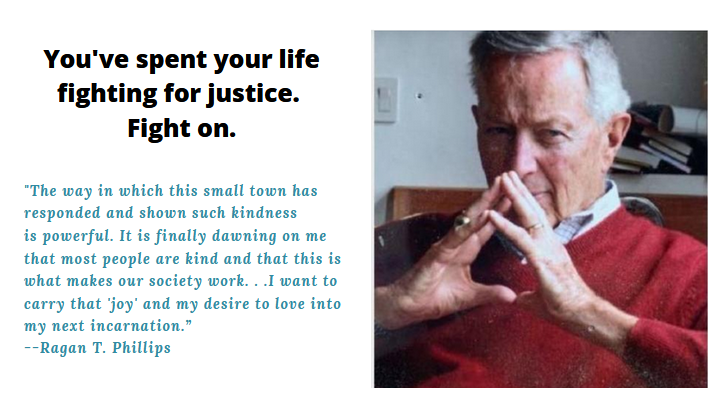 This September, AppalReD Legal Aid received a generous gift from the estate of Ragan T. Phillips. Remembering AppalReD with a gift in his will ensures that his legacy will mirror his life in its dedication to justice.
Phillips grew up in Lawrenceburg, KY. Later his career took him around the world, before settling in Ashland, VA to be closer to his daughter and grandchildren. There he ran an online newspaper, helped build a local theatre, and was a passionate supporter of education. His wife, Phyllis Thoreaux, is a force for good in her own right and worked with AppalReD founder John Rosenberg and his wife Jean at the Department of Justice in the 1960's.
While we wish we could thank Ragan for his generous spirit in person, we will show him gratitude the best way we can, by stewarding his gift to sustain and grow AppalReD Legal Aid.
Please join Ragan as a founding member of the AppalReD Legal Aid Legacy Society.
You've been a key part of our history. Won't you be part of our future?
Click the button above to pledge to share your birthday with AppalReD Legal Aid. As your big day approaches, we'll send you a reminder to start a fundraising page and ask your friends to donate to AppalReD Legal Aid. Every dollar you and your friends donate will go directly to providing people in eastern and south-central Kentucky the legal help they need to build a secure life for their families. Thank you for letting us celebrate with you!
We'll send step by step directions to create a fundraiser on Facebook or Kindful. If you need any help , email sarahc@ardfky.org.
You can use the following images to change your profile picture for your birthday.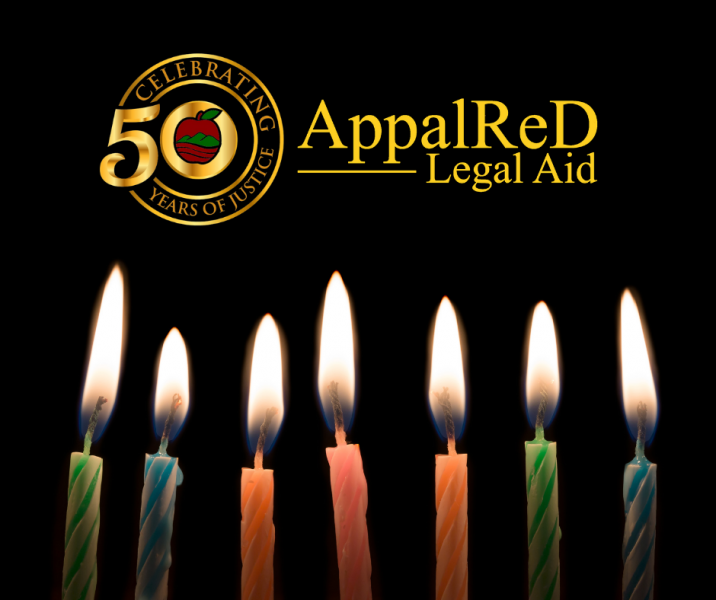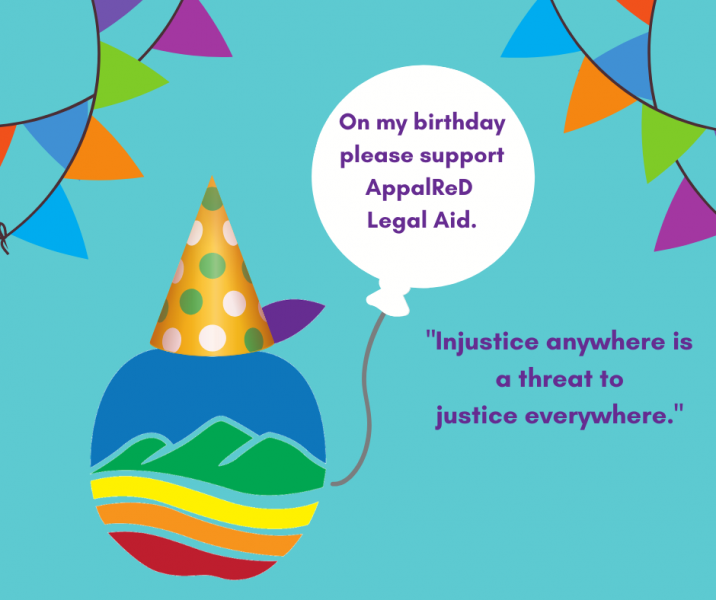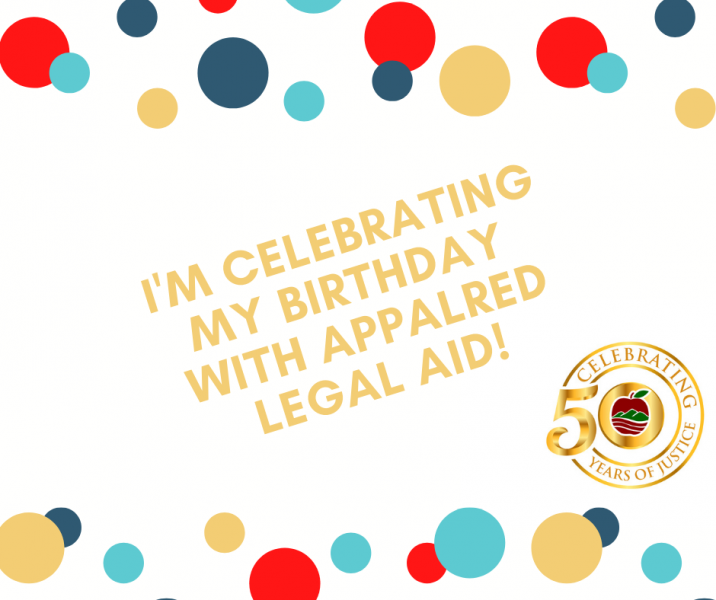 Other Ways To Help
Register your Kroger Community Rewards Card at krogercommunityrewards.com.  Enter our  NPO Number 32773 in the organization field when setting up your rewards card.
Register at AmazonSmile and Amazon will donate 0.5% of the price of your eligible AmazonSmile purchases to Appalachian Research & Defense Fund Of Ky Inc whenever you shop on AmazonSmile.
Register at iGive.  iGive is a free service which enables members to earn money for their favorite cause whenever they make an online purchase or search the web.  Search Appalachian Research & Defense Fund of Ky Inc.
Giving Assistant is a free, easy, and reliable way to help Appalachian Research & Defense Fund of Ky Inc. go even further. When you shop online at 1800+ popular online retailers using Giving Assistant, you earn cash back. Then, you get to decide how much of that cash back you'd like to donate to Appalachian Research & Defense Fund of Ky Inc.. You'll even find great deals like Target Promo Codes, as well as savings at stores like Home Depot and Bed Bath & Beyond. Shop. Earn. Change the world!
---
AppalReD Legal Aid is funded in part by the Legal Services Corporation.  As a condition of the funding it receives from LSC, it is restricted from engaging in certain activities in all of its legal work, including work supported by other funding sources.   AppalReD Legal Aid may not expend any funds for any activity prohibited by Legal Services Corporation Act, 42 U.S.C. 2996 et seq. or by Public Law 104-134.  Public Law 104-134 §504(d) requires that notice of these restrictions be given to all funders of programs funded by the Legal Services Corporation.  For a copy of these laws or for any other information or clarifications, please contact AppalReD Legal Aid at 606-886-9876.
---