Hybrid Domestic Violence Conference a Success
AppalReD Legal has hosted the Domestic Violence and Elder Abuse Awareness Conference for nineteen years. In 2022, the conference came to Eastern Kentucky University for the first time and ran as a hybrid conference with synchronous content. Over 300 caring professionals from around the state attended on September 2nd.
Attorney Ross Ewing and UK Law Student Emily Dial-Hensley kicked off the conference with an informative session on LGBTQ Seniors. Positively, Domestic Violence Order statutes in Kentucky have trended towards inclusion, beginning in 1992 when statutes were extended to "unmarried couples who do or have lived with each other." The statutes have strengthened and broadened over time. For a list of resources for LGBTQ seniors visit this link.
Charles Lay provided an excellent presentation that challenged the audience to consider the military as its own culture with unique characteristics. He also provided details on changes in policy and programs that the military has undertaken to support survivors, such as their "no wrong door" policy and the DOD's CATCH program which seeks to identify serial offenders.
 Kentucky has nearly 50,000 active duty and reserve service members as well as 267,000 veterans who consider Kentucky home. It is critical then for service providers to be culturally competent when serving Service Members or Veterans who have experienced sexual violence within or outside the military.
Immigration Attorney Shannon Church Egan provided an education session on immigrant domestic violence survivors. Egan covered cultural reasons some immigrants may hesitate to report domestic violence. She also provided excellent information on the benefits of and differences between and VAWA self-petitions and U Visas.
Andy Holt told his moving story of being in foster care. Holt now works for the Department of Community Based Services and serves children in the foster care system who have experienced similar trauma.
Isela Arras, Kentucky Coalition Against Domestic Violence, reminded the audience that 90 percent of elder abuse is perpetrated by family members. This presents many challenges to reporting. Dependence on an abuser can make a victim reluctant to report for fear of how he/she will survive without the perpetrator's help and still other victims may not define their situation as abuse when violence from a family member may have been "normalized" or excused. Arras provided many suggestions for safety planning and harm reduction.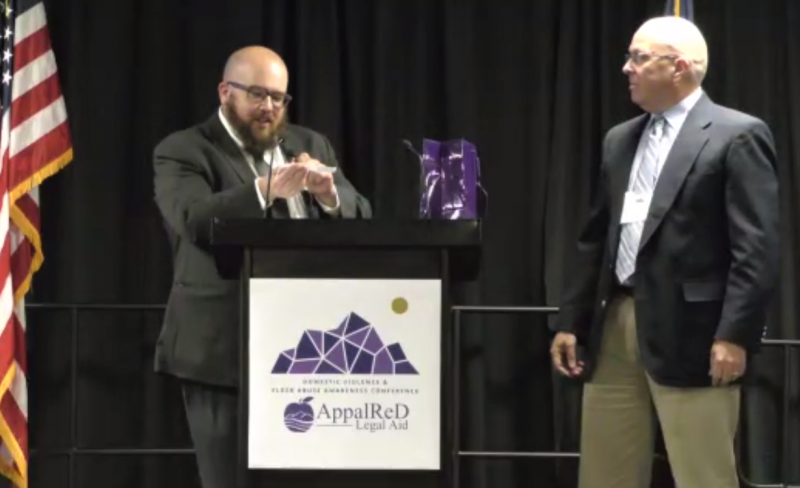 Thanks so much to the Keeneland Foundation for providing one lucky attendee with reserved seats to their fall meet!  We hope you join us for AppalReD Legal Aid's 20th annual conference! Be on the lookout for a save the date this spring.