Coronavirus Pandemic AppalReD Legal Aid's Office Operations
ATTENTION:
ALL OUR OFFICES ARE OPEN TO THE PUBLIC FOR WALK-IN SERVICES.
All staff and clients will have temperatures checked upon entering the building AND are required to wear masks.After walk-in traffic, waiting rooms and meeting spaces will be disinfected by staff.
If you need to apply for our services, please do so by telephone (1-866-277-5733) or online.
To allow for a minimum of six feet of social distancing in the waiting room, our waiting rooms will have reduced capacity. If we have reached the limit, the door will be locked and a sign will be posted on the door with the local phone number. You can also visit our Contact page for the local telephone number. Please call that number and let our staff know you are waiting outside.You will be permitted to enter after another person leaves.
IF YOU HAVE AN APPOINTMENT OR WALK IN FOR SERVICES, PLEASE BE AWARE OF THE FOLLOWING REQUIREMENTS: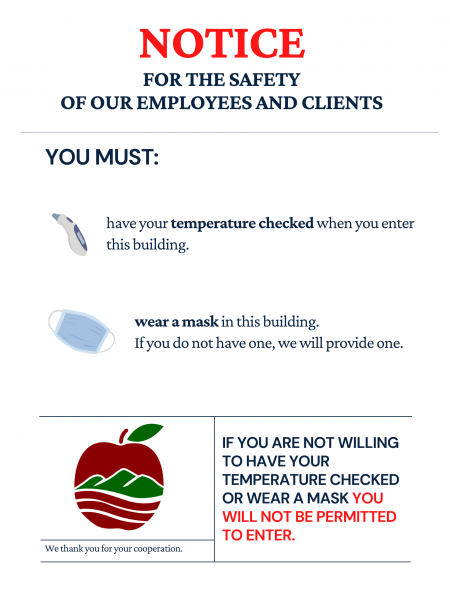 Thank you for your cooperation.